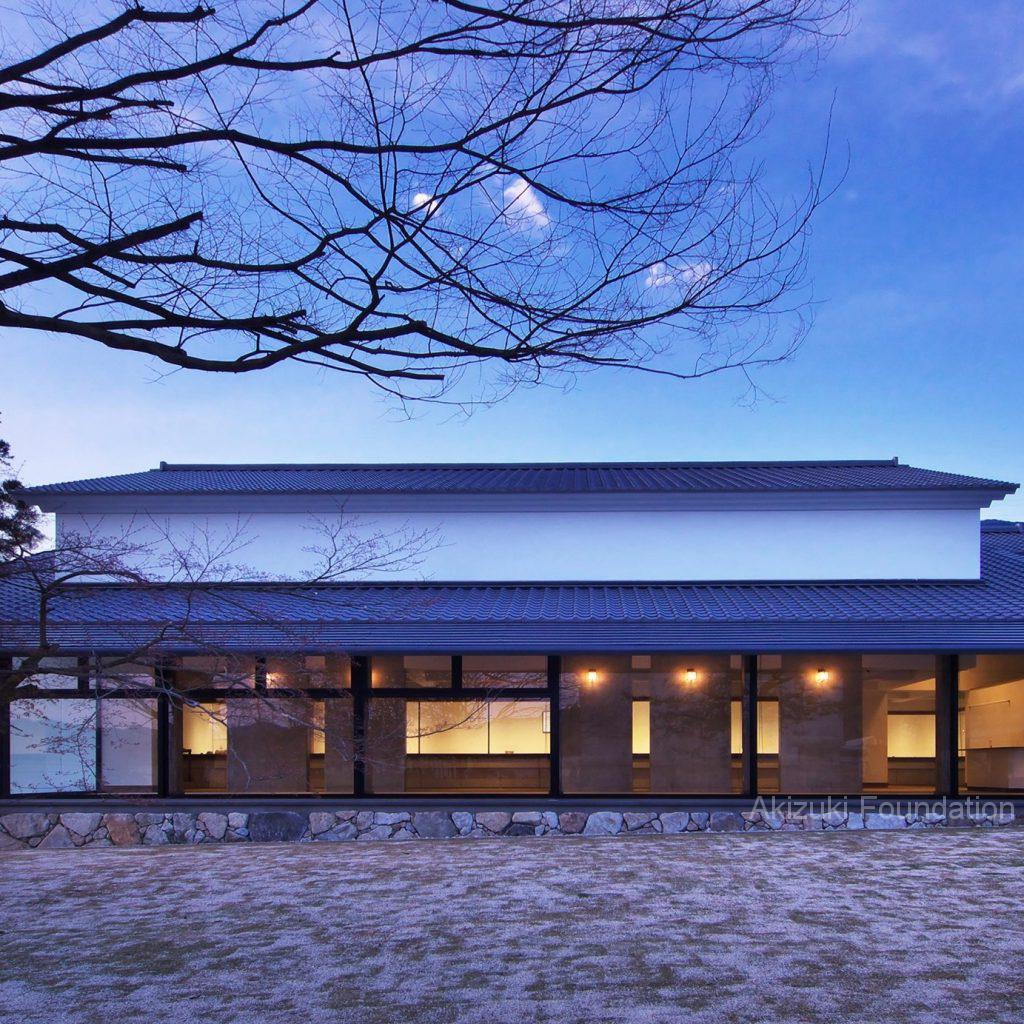 Akizuki Art Museum
Akizuki Art Museum
Located at the foot of Mt. Kosho (895.5m), which is part of the border between Asakura City and Kama City.  Beside the museum building, the clear water of Notori River flows.  It is surrounded by beautiful cherry blossoms in Spring and bright coloured leaves in Autumn.  This area still retains the atmosphere  of the old castle town.
We store and exhibit many Takatori ceramics that were used for a long time and excavated articles from ruins of old Takatori ware kilns as well as many excellent arts and crafts.
Around the museum you will enjoy the beautiful nature.
Address: 695-1 Akizuki-notori, Asakura-shi, Fukuoka 838-0011
Phone: 0946-25-0895 (Only in Japanese)
Opening Hours: 10:00-17:00 (Last admission at 16:30)
Admission: 500 Yen per person  (400 Yen per person for a group of 10 or more)
Opens everyday except from about mid-December until about mid-February (date of the winter recess differs every year.)
*May be closed due to the weather condition and so on.
Origin and History of the Takatori Ware
It is considered the origin of the Takatori Ware was when then daimyō Kuroda Nagamasa ordered a Korean potter Hachizan (Japanese name: Takatori Hachizo)  to open a kiln at the foot of Mt. Takatori (now in Nogata City) in 1606.
Later the Takatori ware kiln was moved several times until a kiln was opened in the Fukuoka Castle town as a purveyor to Fukuoka Domain in 1716.  The kiln was patronised by Fukuoka Domain until 1871.
They produced mainly teawares.  Especially in the latter half of 1600's, Kobori Enshū, a notable expert in the tea ceremony from Kyoto, gave guidance to the potters.  Some of the ceramics, which was preferred by Kobori Enshū, are known as "Enshū Takatori".
| | | | | |
| --- | --- | --- | --- | --- |
| | | | | |
| Display of Takatori Ware | | Ceramic Ornament of a Lion | | Tea Bowl with Brush Marks |
Getting to Akizuki Art Museum
By Car
About 9 km drive from Amagi Interchange, off the Oita Expressway, to Akizuki, Kama area through the route 322.
There is no parking at the museum.  Parking facilities are available near the museum.
By JR Train
Get off at Kiyama Station (基山駅)of JR Kagoshima Main Line (鹿児島本線)and transfer to Amagi Railway Amagi Line (甘木鉄道甘木線).  Get off at Amagi Station (甘木駅).  (About 26 min.)  Take a bus of Amagi Kanko Bus Akizuki Line (甘木観光バス秋月線) in front of the station and get off at Hakubutsukan-mae (博物館前) stop. (About 20 min.)
By Nishitetsu Train
From Fukuoka City:
Get off at Nishitetsu Ogori Station (西鉄小郡駅)of the Nishitetsu Tenjin Omuta Line (西鉄天神大牟田線)and transfer to Amagi Railway Amagi Line (甘木鉄道甘木線).  Then get off at Amagi Station (甘木駅)(About 20 min.).
Take a bus of Amagi Kanko Bus Akizuki Line (甘木観光バス秋月線) in front of the station and get off at Hakubutsukan-mae (博物館前) stop. (About 20 min.)
From Kurume City:
Take a train of Nishitetsu Amagi Line (西鉄甘木線) bound for Amagi (甘木) and get off at Nishitetsu Amagi Station (西鉄甘木駅).  (About 51 min.)
Take a bus of Amagi Kanko Bus Akizuki Line (甘木観光バス秋月線)and get off at Hakubutsukan-mae (博物館前) stop. (About 19 min.)